Walt Disney World 2001:

May 18th



Trip Reports
Overview
Wake-Up: 5:45am
Morning Park: Disney's Animal Kingdom
Breakfast: Tusker's Bakery
Lunch: Flame-Tree BBQ
Afternoon: Swimming and napping at Port Orleans
Dinner: House of Blues, Downtown Disney West Side.
Evening Activity: Cirque Du Solei: La Nouba
Bedtime: 1:30am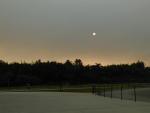 Got up about 5:45 and made a pot of coffee in the Gevalia coffee maker we brought with us. The smoke outside was still thick! I started off our video tape in the dark outside our room. We all gathered together at 6:15 and walked over to the bus stop. The bus for Animal Kingdom showed up about 7:00 and we got to the park by 7:20. Got in line to enter and the gates opened right at 8:00. We followed the crowd to the Kilimanjaro Safari but just got FastPasses. Got some danishes and then sat for a bit in the smoking section which was nicely devoid of crowd. We explored Africa a bit and did some shopping while waiting for our 8:45 FastPass time. I bought a replacement for my cool flowey shirt and Kel bought a pair of leopard print Mickey ears. I had then sent back to the room. The last time we stayed on property the Package Delivery was GREAT. We would buy stuff and it would be in our room when we got back that night. The program has gone way downhill since then. We didn't see our stuff till late Saturday, and then it was delivered to Greg's room not ours. There was a notice in our room that afternoon saying that starting Sunday the 20th all packages would be delivered to the hotel giftshop, not the rooms. That sucked and we let them know it.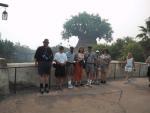 At 8:45 walked right on to the The Safari ride. So far Fast Pass is my friend. The safari was cool. Saw quite a few critters, and though not as many as in San Diego, they were a bit closer. Disney had to insert a storyline of course and we ended up chasing poachers who were after a couple of elephants. Surprisingly Disney did NOT have an ivory gift shop at the ride exit :). Went from there to the Pangani Forest Exploration Trail and saw gorillas and birds and more herd animals. Lingered a bit over it. We paused for a sit-down and a drink then walked over to the Tree of Life and "It's Tough to Be A Bug". The tree is covered in carvings of animals and it was great fun finding them all! No line so we walked right in. Loved the show and had even more fun watching idiot parents drag their terrified kids out in the middle. When will they learn. There were only about a hundred warning signs in line...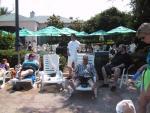 It was now time to get a little wet up in Asia on the Kali River Rapids. Again, very little line and we walked right on. We prepared to get soaked but the only one who really did was a woman who shared our raft with us and her husband and son. She got wet from head to toe. I got off relatively dry :) Ok ride but the deforestation story was a little heavy handed.... especially considering how many tress Disney probably chopped down to build it :) Checked out the Maharaja Jungle Trek to see bats and tigers. The tigers were all sleeping but the bats were awesome! They were huge! After a short break we went over to the Flame-Tree BBQ for lunch. It was about 12:40. I had an interestingly spiced chicken salad sandwich with onion rings and a Safari Amber Ale. Pretty good beer for a theme park. Kel had a PB&J Ravioli :) We sent Greg over to Dinoland to snag us FastPasses for Dinosaur while we were ordering food. Our time was 1:15 to 2:15 which gave us time to linger over our meal. We moseyed on down to Dinoland, which is nicely themed like a dig in the southwest. Sort of a Roswell meets Indiana Jones. Speaking of Indy, the Dinosaur ride uses the Indy ride system but the similarities end there. Sort of a lame predictable story and too dark inside to really see anything. Nowhere near as good as Anaheim's Indy. By now (about 1:45) it was really getting hot so we decided to do one, last thing, the Wildlife Express to Rafiki's Planet Watch (nee Conservation Station). It was a fairly boring train ride with not much to see. We were hot and tired so instead of getting off and checking out the exhibits, we opted to take the train back and head home to the hotel for a swim.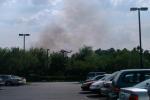 The bus got us back to the Port Orleans by 3:20 and we were in our suits and poolside by 3:30. Bought a couple of drinks at the Mardi Grog poolside bar, a Nawlin's Ice (rum and brandy, peach schnapps and banana liquor mmmm) and drank those before hopping into the pool. It was a little crowded and way too warm but the evaporation after getting out was really nice. Greg tried the slide and warned us we'd prolly stick to it like he did so we skipped it. It's really design for smaller critter than us.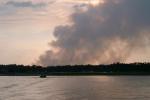 At 4 we got one more drink then headed up to the room for a quick nap. I napped and woke up refreshed... that was the theory anyway. I actually woke up groggy with a sore arm :) At 6:00 we all went down tot he water taxi dock for a boat ride to Downtown Disney. We had Cirque tix for the 9:00 show and wanted to eat at the House of Blues. The boat finally showed up around 6:15 and dropped us off at the Marketplace, the opposite end of where we wanted to go at about 6:45. Took a bus from there to the West End which killed another 15 minutes. Waited for a table at the HoB for about 15 minutes, getting drinks ahead of time. Once to the table we had a fabulous time! We told our server, Kerry (from England) that we had Cirque tickets and she really worked her butt off getting our food as fast as possible. She suggested the soup which was Beer and Cheese. Most of us ordered it and it was GREAT!! I had a wonderful Jambalaya which was huge and much more authentic than the one I had the night before, plus 2 draft Guinnesses. Everyone enjoyed the meal and it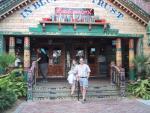 was surprisingly inexpensive. 7 people with a few drinks for $159! We tipped Kerry big. The bill actually included a $22 gratuity because of the size of our group, but we put in an additional 20 bucks for her. We stepped outside the restaurant, while Pat spoke to the manager about how great Kerry was. While loitering there Kerry came running out to let us know that the tip was already included on the bill so we'd paid too much! We set her straight and she thanked us profusely, as she was going on vacation in a few days and the cash would help out a lot.
We all had warm fuzzies as we headed across the walkway to the huge Cirque building. Got our seats at about 8:30. La Nouba was pure ecstasy, just like every other Cirque show I've seen. Several of the acts came close to bringing tears to my eyes. We left the theater at about 11:30 with silly grins on our faces, and headed over to the bus stop. The ride home was nice and quick once we were picked up. We got back to our room about 12:30, and were asleep by 1:30.








Trip Reports
---
Text Last Modified Wed Sep 17 14:19:26 2003

Click on one of these 28 Fabulous Pics for more details and a bigger picture.
---
| | | |
| --- | --- | --- |
| Smokey Morning | Waiting to Enter the Animal Kingdom | The Whole Group and the Tree of Life |
---
| | | |
| --- | --- | --- |
| The sun peeking through the smoke. | Disney's Animal Kingdom | Sights on the Kilimanjaro Safari |
---
| | | |
| --- | --- | --- |
| Sights on the Kilimanjaro Safari | Sights on the Kilimanjaro Safari | Sights on the Pangani Forest Exploration Trail |
---
| | | |
| --- | --- | --- |
| Sights on the Pangani Forest Exploration Trail | Sights on the Pangani Forest Exploration Trail | The Tree of Life |
---
| | | |
| --- | --- | --- |
| The Tree of Life | Kali River Rapids | Sights on the Maharaja Jungle Trek |
---
| | | |
| --- | --- | --- |
| Sights on the Maharaja Jungle Trek | Sights on the Maharaja Jungle Trek | Sights on the Maharaja Jungle Trek |
---
| | | |
| --- | --- | --- |
| Disney's Animal Kingdom | The Tree of Life | Some Excitement |
---
| | | |
| --- | --- | --- |
| Fire-Fight'n Copter | Fire-Fight'n Copter | Doubloon Lagoon |
---
| | | |
| --- | --- | --- |
| Smoke on the Water | More Smoke | Downtown Disney from the Water Taxi |
---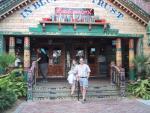 The House Of Blues
---
---
Around The World
[ Blizzard Beach ] [ Disney's Animal Kingdom ] [ Disney/MGM Studios ] [ Epcot ] [ Fantasia Gardens and Downtown Disney ]
[ Magic Kingdom ] [ Orlando Airport ] [ Port Orleans Resort: French Quarter ] [ Pre-Trip ]
Daily Trip Reports
[ May 17th ] [ May 19th ] [ May 20th ] [ May 21st ] [ May 22nd ] [ May 23rd ] [ May 24th ] [ May 25th ]
[ May 26th ]

---
More Destinations
[ BVI 2005 ] [ Camping Trips ] [ Catalina 2002 ] [ England 2004 ] [ Europe Trip 1998 ]
[ Hometown Travel Hosts ] [ London 2009 ] [ Middle East 2008 ] [ New Orleans Thanksgiving 2007 ]
[ PerlWhirl 2000 Alaska ] [ San Diego Weekend ] [ Tokyo 2003 ] [ UK 2006 ] [ UK Trip 2000 ]
[ Walt Disney World 2001 ] [ Walt Disney World 2007 ]

---

Taking up valuable Internets space and clogging the tubes for over 10 years!!!
Site contents Copyright © 1996 - 2010, by Leonard Vinci
Please do not use the contents of these pages without written permission. That includes
linking to any of the pictures or quoting any of the text. Thank you!