Walt Disney World 2001:

May 21st



Trip Reports
Overview
Morning Park: Blizzard beach
Lunch: Sassagoula Float Works
Afternoon Park: None
Dinner: Portobello Yacht Club
Evening Activity: Downtown Disney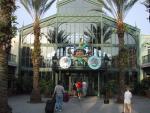 We got to sleep in today due to the fact that Blizzard Beach doesn't open until mid-afternoon... 10:00am. I got up about 7:30, grabbed the video camera and the digital Elph, then went walking around the resort snapping pics. I was a 2 fisted photographer, documenting almost every inch of the Port Orleans French Quarter. Got some great shots as well as about 20 minutes of video that seems like an hour. I met Pat and Melissa down at the Float Works after my final shot. They were having breakfast. Chatted for a bit then went up to wake the girls. Yay, they were already up and pretty much ready to go. Blizzard Beach was sort of a low priority on this trip, as none of us had been to a waterslide park in eons. We'd heard good things though so we slotted it in for 10:00 - about 1:30, with an afternoon break, then over to Downtown Disney for dinner and Disney Quest.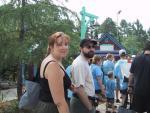 Caught the bus at about 9:30 and got to the park by 9:50. Waited with the crowd for 10 minutes until they let us in. Unlike the other parks, none of us were all that familiar with the layout there, but we were able to follow the crowd to the lockers. Piled everything but our towels and waterproof cameras into 2 lockers, then wandered around looking for a good place to stake a claim on. Found one fairly quickly... we just looked for a smoking section :-) Found a nice fairly secluded area close to but not right next to the children's area. We were able to claim 4 loungers and a few chairs. At first we were reluctant to leave stuff unattended, but decided to risk it. We could afford to lose a t-shirt and a towel.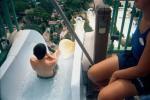 First priority was to get up to the Summit Plummet. At least it was for most of us. There were a couple in the group who were enthusiastic until they saw all 120 of it. It was quite a hike up to the top of Mount Gushmore, then more stairs to the top of the Ski Jump. In case you are unfamiliar with Blizzard Beach, the theme-story is that one year a blizzard hit central Florida and some entrepreneurs decided to try and make a buck by building a ski resort. Shortly thereafter the snow melted. BB has lots of fake snow and icy caverns and all the slides are snow themed. Summit Plummet is the ski jump. It really looks like you are going to have to jump, but the slide, which is an 80 degree 120 tall speed drop, really goes under the jumpy part. It took a bloody half-hour to get through the line even first thing in the morning. It did allow me to get some neat pictures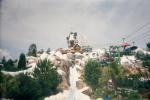 though. Once up at the top I was first to take the plunge. I must be getting brave in my old age because I was hardly nervous at all. Once you're going there's no time for jitters. It takes about 4 seconds to reach the bottom. You have to cross your ankles and your arms, so you're basically thinking about that all the way down, as the water tries to tear them apart. Kel and Denise complained of the waters roughness on their backs, I was more concerned, at the bottom, of being able to get out of the way without slipping on my face. What a rush! If there'd been less of a line I'd have done it again and again!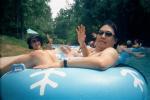 Took a short break to wait for Greg to come down. He'd wanted to try a different slide then got in line about 50 people behind us. Pat and Melissa went over to Cross Country Creek, which is a circular creek surrounding the park. It has a current and you sit, lay, etc on inner tubes and float around. It takes about 30 minutes to make one orbit of the park. Once Greg returned, the rest of us headed over to it. We all thought it would be a nice lark to try before heading off for more water slides. Boy, were we ever wrong! This was GREAT!. The 5 of us all got inner tubes then linked up as best we could and then floated around for a half hour. There's a bunch of fun stuff to see, and it wasn't very crowded at all. The water was wonderfully cool. At one point you go through an "ice cave", within which there are several truly icy waterfalls. I got pretty good at steering people, mostly Kel, right into them. Mostly though we just lazed about.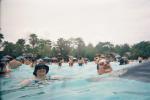 After 1 orbit we got back out at our exit (there are nine or so, ours was #2 :). We wanted to try another slide. Pat and Melissa were back at "base camp". They had loved the Creek as well. Pat liked it so much, he was content to skip sliding and go right back. The rest of us headed back up Mt. Gushmore, intending to try out the Teamboat Springs slide. It's a huge slide for rafts of up to 5 people. Once on top of the mountain we decided the line was too ooky and checked out the others. They were all ooky and it was only.. Oh Jeez it was almost noon! Anyway, Snow Stormers' line wasn't too bad so we went on that. It was a typical waterslide where you ride a mat down on your belly slalom style. Fun but it was no Cross Country Creek! Afterward Kel, Melissa and I took a dip in the big wave pool. That was fun for about 15 minutes but it was no Cross Country Creek! Back to the base camp and everyone was back. Pat had done another Creek orbit then hung out in the ice cave. He loved the icy waterfalls.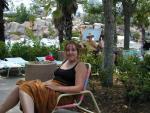 After a short break we all decided to get back in the Creek. It was now about 1:00. We did one orbit, then everyone got out but Pat, Melissa and me. We went around again and this time I got sunburned. Ahhh, but it was sooo relaxing, especially after being so go-go-go over the last 4 days. It was shaping up to be one of our favorite days of the trip. Melissa and I got out after the second time around. Pat stayed in and was only gonna go as far as the ice cave. We went back to base camp and hung out with the rest of the gang until Pat finally came back about a half hour later. Some frat boys were clogging up the cave. By then it was about 3:00 so we packed up our stuff, got our junk outta the locker, and did some shopping. The good-luck goddess smiled on me when I accidently dropped my birthday pin in the shop, then was able to find it 10 minutes later. The bad luck goddess was sneering when the rather dim clerk bagged up the postcards and knick-knacks but left out the one thing I really wanted, a Blizzard Beach beer..er bottle opener. Oh well. We got onto our bus and went back to the hotel for a short "break". It wasn't a very long one.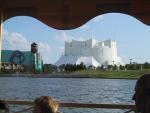 At 5:00 we took the water taxi to Downtown Disney. Did a bit of shopping but mostly lookie-loos. We figured we'd see what was available, then come back later to buy. Went through the Disney At Home store which was cool, as was the garden shop. The Pooh store was OK and they had the talking Eeyore that's so cool. Reluctantly went into the X-mas store and bought a bunch of stuff for the family. Played in the electronics store and saw that their CD makin' machine sucked. Spent way too much time in the World Of Disney, which is the single biggest Disney Store I've ever been in. Kept losing people. Finally regrouped then headed over to the Portobello Yacht Club for our 7:00 Priority Seating.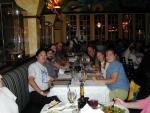 Sat outside until 7:30 when we finally got a table. It was really loud in there, and it was just people talking. No music or anything. It was also very crowded. We started off with a pitcher of "Vino Frutta"... (That's Sangria, Keeds). For dinner I had Pesto Halibut which was pretty good. The service was good but the pace was slow due to the crowd. Our server was very nice and always seemed to turn up when we needed him. There was one amusing moment if you've seen L.A. Story. Kel ordered duck. The waiter came back and told her they were out... by saying "You may not have ze Duck". Yes he had an accent, no he'd never seen the movie. We all burst out laughing and saying she may have ze chicken, and the waiter nodded his head and said "Yes you may have ze chicken". Har har! One of the air ducts was leaking right over Kel's chair so she had to move once we figured out how she was getting wet. Overall this was a disappointing meal. It was typical Italian of good quality, but nothing special. This was THE most expensive meal so far as well. The 7 of us racked up a bill over $260. (Compared to the fab $150 meal at HoB, it was quite a sticker shock). The crowd was noisy and there was one couple nearby who should have their parenting license revoked. They let their 3 year old run around, bumping into servers coming out of the kitchen. Let him crawl around on the floor and scream, while they ate dinner ignoring him. Wish I could have. Why do we let idiots reproduce anyway? We didn't get out of there until 10:30!
After dinner Kel and Denise decided to call it a night and head back to the hotel. Greg and Terry wanted to see Disney Quest as did Melissa, Pat and I. We wanted to see Pleasure Island a bit before though so we let them charge ahead. Pleasure Island was loud and the loudness was music I don't much like (Michael Jackson??? sheesh!). Our main goal was to check out the Adventurer's Club. Went in and the quiet was nice. It's beautifully themed. We looked around and were set upon by a waitress immediately. Ordered drinks then went found a quiet spot in a side chamber. We listened to the audio-animatronic talk smack to the crowd. Then they announced that the show was about to start and we should all go to the library. Baaaaa. We followed the crowd. We sat in the back, not sure if we'd stay. *WE* wanted to see Disney Quest too and it closed at midnight. The show started with a woman coming out as an "Adventurer" to tell her tale. She proceeded to lamely make fun of some yokel in the audience. Ooooo Golden Horseshoe Revue flashbacks. We skedaddled before the show was 2 minutes old. Whew that was close.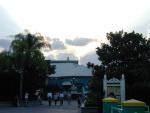 Went over to Disney Quest. Great elevator ride. Couldn't wait to psyche Denise out with it (she was still shakey about TZ :). It took us to the third floor and we followed the signs down one level to the Sid's Create-A-Toy. (yes we did our homework). This is a brilliant concept. You work a joystick over a screen showing Sid's room from Toy Story (the psycho kid next door). You pick up toy parts and stick them to your creature. Once you are done you click "done". Then you go over to the clerk and buy your toy. It costs $10 and you gotta put it together yourself but hey that's cool! I messed mine up cuz the controls were warped (why do I always get a warped one?) so mine doesn't have a name. It's pretty twisted though! While doing that Greg and Terry found us. Together we headed down one more level to the Pirates of the Carribean ride. En route we lost Terry. He stopped at the Water Ride and didn't tell anyone. Got in line for Pirates. This ride kicked ass. It's more of a video game. Groups of up to five get together and choose a captain. I got chose. We then donned 3D goggle contraptions and boarded our boat, which was a motion simulator. I got behind the wheel and my crew manned the guns. A Skeleton briefed us, then we were off. The object was to sink as many other pirates as possible thereby getting their gold. My job was to steer the boat and get close enough to shoot while the crew had 6 cannons to play with. This was my first time so we only did so-so. I was playing like a video game, trying to keep moving so as not to get hit, but actually stopping next to another ship was a better strategy. Easier to kill them, and they were pretty lame about shooting you. After some time of doing this the Skeleton returns and tries to take all the gold you just worked so hard getting. You destroy his ship, which DOES require some fancy maneuvering, and then you get your score. We all cheered at our score. Great game!
Met up with Terry then gave the Jungle Cruise a try. It is one of the original Disney Quest offerings and shows it's age. The video when it's not in use is misleading. It shows the Cinderella Castle next to the Matterhorn (I liked that actually). It leads you to think you'll be rafting around the Magic Kingdom.. Nope. You are off to prehistoric times to play with dinosaurs. Sigh. The paddles didn't work very well and we discovered that you end up in the same place if you don't bother to paddle. We tuckered out halfway thru and tried this. Sho'nuff. It was OK but we should have ridden it BEFORE Pirates. Did I mention Pirates? Back we went for another shot at blowing up pirates and grabbing gold. I was the captain again and Terry joined my crew, while Pat sat it out. We were awesome, nearly doubling our score from before. By the time we got off the boat it was 10 after midnight and they were closing (the gift shop at the exit was opened late for our convenience). Walked out to Georgia to catch the Port Orleans bus home. Got to the room about 1:00 and to bed by 1:30. Kel was still up playing online and with our pictures. All in all a truly fun day, especially considering how much we loved 2 of the 'B' attractions of Walt Disney World.






Trip Reports
---
Text Last Modified Wed Sep 17 14:21:34 2003

Click on one of these 33 Fabulous Pics for more details and a bigger picture.
---
| | | |
| --- | --- | --- |
| Port Orleans Pictorial Tour | Port Orleans Pictorial Tour | Port Orleans Pictorial Tour |
---
| | | |
| --- | --- | --- |
| Port Orleans Pictorial Tour | Port Orleans Pictorial Tour | Port Orleans Pictorial Tour |
---
| | | |
| --- | --- | --- |
| Port Orleans Pictorial Tour | Port Orleans Pictorial Tour | Port Orleans Pictorial Tour |
---
| | | |
| --- | --- | --- |
| Port Orleans Pictorial Tour | Port Orleans Pictorial Tour | Port Orleans Pictorial Tour |
---
| | | |
| --- | --- | --- |
| Port Orleans Pictorial Tour | Entering Blizzard Beach | Posing with the Snow Family |
---
| | | |
| --- | --- | --- |
| View from Mount Gushmore | View from Summit Plummet Tower | View from Summit Plummet Tower |
---
| | | |
| --- | --- | --- |
| Summit Plummet: I'm NEXT | Summit Plummet | Summit Plummet |
---
| | | |
| --- | --- | --- |
| Summit Plummet | At Base Camp | Cross Country Creek :Ice Cave |
---
| | | |
| --- | --- | --- |
| Cross Country Creek | Cross Country Creek | Wave Pool |
---
| | | |
| --- | --- | --- |
| Wave Pool | Me under a waterfall | Port Orleans Resort From the Water Taxi |
---
| | | |
| --- | --- | --- |
| Cirque Du Solei "Tent" | Sunset over the Portobello Yacht Club | The group at dinner at the Portobello Yacht Club |
---
---
Around The World
[ Blizzard Beach ] [ Disney's Animal Kingdom ] [ Disney/MGM Studios ] [ Epcot ] [ Fantasia Gardens and Downtown Disney ]
[ Magic Kingdom ] [ Orlando Airport ] [ Port Orleans Resort: French Quarter ] [ Pre-Trip ]
Daily Trip Reports
[ May 17th ] [ May 18th ] [ May 19th ] [ May 20th ] [ May 22nd ] [ May 23rd ] [ May 24th ] [ May 25th ]
[ May 26th ]

---
More Destinations
[ BVI 2005 ] [ Camping Trips ] [ Catalina 2002 ] [ England 2004 ] [ Europe Trip 1998 ]
[ Hometown Travel Hosts ] [ London 2009 ] [ Middle East 2008 ] [ New Orleans Thanksgiving 2007 ]
[ PerlWhirl 2000 Alaska ] [ San Diego Weekend ] [ Tokyo 2003 ] [ UK 2006 ] [ UK Trip 2000 ]
[ Walt Disney World 2001 ] [ Walt Disney World 2007 ]

---

Taking up valuable Internets space and clogging the tubes for over 10 years!!!
Site contents Copyright © 1996 - 2010, by Leonard Vinci
Please do not use the contents of these pages without written permission. That includes
linking to any of the pictures or quoting any of the text. Thank you!