Walt Disney World 2001:

May 22nd



Trip Reports
Overview
Morning Park: Epcot
Lunch: Sassagoula Float Works
Afternoon Park: None
Dinner: Pecos Bills
Evening Activity: Magic Kingdom E-Ride Night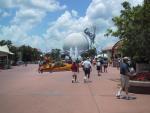 This would be a long day. The plan: Hit Epcot for early-entry and hit all the stuff in FutureWorld we'd been skipping, then on to World Showcase to work our way around the West side of that area. Then a break, then over to the Magic Kingdom to claim our E-Ride night wrist bands and enjoy 3 crowdless hour of the park. Things went pretty much as planned except for the weather. We got up early and had breakfast at the the Float Works. I had a croissant egg and sausage sandwich that was yummy. Caught the early bus to Epcot and walked in just as they opened it for us.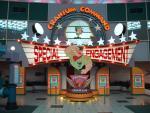 We went on Spaceship Earth first as it was right there and had not yet developed a line. Nice ride, though it's showing it's age. Disney upkeep ain't what it used to be. Next we walked over to Test Track and got in the standby line. Ride broke down shortly thereafter so we got out of line and snagged FastPasses for later. Headed over to the Wonders of Life Pavilion and sat around while Denise, Greg and Terry rode Body Wars. It's the only ride in WDW that makes me nauseous so the rest of us skipped it. At about 8:45 we went back to Test Track with our Fast Passes and would have walked right on, but it broke down again. Took a nice VR shot of the queue area. Then the ride was fixed and we got on. Pretty fun but considering all the hype, was a little disappointing to me. By 9:00 we were walking over to the Universe of Energy. That shows facelift is great. It used to be a pretty dry presentation with the dinosaur payoff at the end. Now it's a pretty humorous show starring Ellen DeGeneres and Bill Nye the so-called Science Guy. Back to the Wonders of Life, now that the park was officially open, and hit Cranium Command. Always a hoot. By now Kel's foot was bothering her so she trudged over to first aid for some gauze while we hung out in the cafe in the Life Pavilion.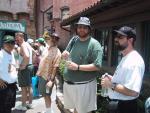 Once she got back we made the long trek across Future World to the Imagination Pavilion and got in line for Honey I Shrunk the Audience. Man Epcot is big. Honey was fun but it was like my 5th time. Denise is getting antsy about Disney 3D films :) By then it was about 11:00 so we walked over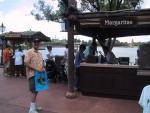 to World Showcase. We headed in a clockwise direction this time as we'd been right several times before for meals. While everyone else went to Mexico, I went on ahead to Norway to get Fast Passes for Maelstrom. I could swear I read it had Fast Pass.. I was wrong, though it looks like they are putting it in. No matter, there was no line as yet, so I went back to meet the group in Mexico. Half the group went on the horribly cheesy Rio Del Tiempo Ride. The rest waited. On our way to Norway we hit the margarita stand, which was kind of a mistake. It was getting pretty hot out. The margs didn't sit well. Kel, Greg and I passed Norway to go to the smoking section in China which was the worst laid out that we'd seen. Once back to Norway we got in line for Maelstrom for about 10 minutes. There are lots of construction walls up inside the queue area. It's a fun ride that nobody but Kel and I had been on. We even stayed for the travelogue at the end cuz it was cool inside. Explored Norway some more afterwards, noting the menu of the restaurant for next time.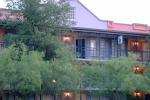 By then, about noon, Denise and Kel were getting heat stroke and the rest of us weren't much better off. It was hella hot. We aborted the rest of the afternoon and headed back to the hotel early. Took a nap then got together around 5:00 to head over to the Magic Kingdom. We arrived at about 6:00 and went over to the Guided Tour area where they were handing out E-Ride night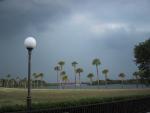 wrist bands. It was cooling off nicely due to the abundance of heavy dark clouds overhead. Looked like we might get our first rain of the trip. In the past it's always pretty much rained every day, but there was a drought in Florida at this time. Did a little shopping in the Emporium then Kel and I popped over to the one place left in WDW that offered free name stitching on Mouse Ears. Everywhere else charged $6.50, but The Chapeau, on Main Street doesn't. Our cunning plan was to buy personalized Ears for people at work. I wanted to get one for each of the people in my department and Kel and Denise, for most in their company. There was a nasty line though so we decided to return the next day early, after MGM. We needed 18. :)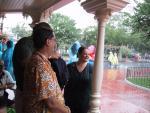 We headed down to the area across from Casey's Corner to sit and wait for the group members who were more into shopping than us. As we walked the rain began. We got a table under an umbrella and that kept us dry for about 10 minutes. Then it began to pour buckets. As our group trickled in (pun intended), the rain got heavier and we had to get under a nearby overhang. Watched as the crowds made a beeline for the exits, knowing the rain wouldn't last and our E-Ride night would seem to start early as the rabble departed. They took their damned strollers with them thank goodness. The downpour slacked by about 6:45 and we ventured out into Adventureland, pausing momentarily to get a CM fired for giving away garbage bag ponchos.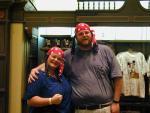 We rode the Jungle Cruise which was much better than Disney Quest's. We got a fantastic skipper who actually had a few one-liners I'd never heard before!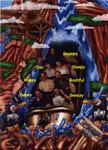 Off to Pirates which was not as good as Disney Quest's but mostly not as good as the original. The shop afterwards was quite good however and we got some very fun souvenirs. 8:00 rolled around as we got in line for Splash Mountain. The rain had stopped but we got soaked again on the ride. The picture actually turned out pretty nice so we all bought it. Kel bought some new shorts as hers were soaked through. We went on Big Thunder Mountain Railroad twice as there was no line whatsoever. Kel and Denise sat out the second ride. It began to sprinkle again while we rode. After a short break in a very nice smoking area, we walked over to the Haunted Mansion. On our way we found a great picture spot of the Castle all lit up. A kindly cast member took our picture, but our camera is kind of complicated and it didn't come out very good. Took a lot of pictures which just didn't come out very good. Our battery ran out and I replaced it. While doing that I hit some control which made all the pics really dark. I fixed it after dinner. Rode the Mansion where there was no line. Great fun.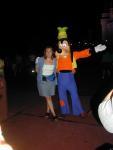 It was now about 9:00 and a few of us were hungry. We popped into Pecos Bill's for what we expected to be an overpriced mediocre burger and fries. What we got was an overpriced, mediocre burger and fries with a fantastic toppings bar! They had sauteed mushrooms and grilled onions and melted cheese as well as big onion and tomato slices. Wow! Were we impressed. Pretty good meal. I also had a good root beer float. The place was empty which added to it's allure. Afterwards we strolled in the direction of Tomorrowland, taking pictures the whole time. Pat went on ahead cuz he wanted to ride Alien Encounter again. I'd been disappointed at the dumbing down of it so I opted to skip it in favor of walking around the empty park taking pics. Greg, Terry and I got some great shots of Tomorrowland at night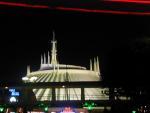 as well as the castle. We met Goofy on the way over and Denise got her picture taken with him. Greg and Pat rode Alien Encounter, the girls found a nice bench and Terry and I continued to play photographer. Did Buzz Lightyear again and once again got a warped gun. Lousy score. I'm much better at steering towards Pirates. Rode Space Mountain just before the 11:00 closing time, then sat around soaking up the atmosphere of the empty park. I'd really like to have one in my backyard by the way... When they shut down the PeopleMovers we decided it was time to make our way home. We walked real slow and leisurely. No cabs at the Magic Kingdom (you have to go to the TTC via monorail or boat) so we hiked out to Tennessee where the Port Orleans Bus picks up. Got back to the hotel late and were in bed by 1:00.


Trip Reports
---
Text Last Modified Wed Sep 17 14:22:13 2003

Click on one of these 51 Fabulous Pics for more details and a bigger picture.
---
| | | |
| --- | --- | --- |
| Spaceship Earth | Future World Plaza | Cranium Command |
---
| | | |
| --- | --- | --- |
| Epcot Bugs | Epcot Bugs | Epcot Bugs |
---
| | | |
| --- | --- | --- |
| Landscaping | On the road to Mexico | Mexico |
---
---
| | | |
| --- | --- | --- |
| China | China and Margaritas | Norway |
---
| | | |
| --- | --- | --- |
| Norway | Norway | Stilt Dudes |
---
| | | |
| --- | --- | --- |
| Another Spaceship Earth Pic | More Flamingos | Bunnies! |
---
| | | |
| --- | --- | --- |
| View Of Our Room | Tut Tut looks like rain! | Soaker Eh! |
---
| | | |
| --- | --- | --- |
| Aladdin Spoke and Wheel ride. | Free Kitties! | Jungle Cruise Menu |
---
| | | |
| --- | --- | --- |
| Jungle Cruise | Pirate Shop | Frontierland |
---
| | | |
| --- | --- | --- |
| Before Splash Mountain | Splash Mountain | On Splash Mountain |
---
| | | |
| --- | --- | --- |
| Splash Mountain | Castle By Night | Castle By Night |
---
| | | |
| --- | --- | --- |
| Haunted Mansion | Castle By Night | Denise and Goofy |
---
| | | |
| --- | --- | --- |
| Denise and Goofy | Jilted Goofy | Tomorrowland By (E-Ride-)Night |
---
| | | |
| --- | --- | --- |
| Tomorrowland By (E-Ride-)Night | Tomorrowland By (E-Ride-)Night | Tomorrowland By (E-Ride-)Night |
---
| | | |
| --- | --- | --- |
| Tomorrowland By (E-Ride-)Night | Tomorrowland By (E-Ride-)Night | Tomorrowland By (E-Ride-)Night |
---
| | | |
| --- | --- | --- |
| Len By (E-Ride-)Night | A Hidden Mickey thanks to the rain. | Main Street By Night |
---
---
Around The World
[ Blizzard Beach ] [ Disney's Animal Kingdom ] [ Disney/MGM Studios ] [ Epcot ] [ Fantasia Gardens and Downtown Disney ]
[ Magic Kingdom ] [ Orlando Airport ] [ Port Orleans Resort: French Quarter ] [ Pre-Trip ]
Daily Trip Reports
[ May 17th ] [ May 18th ] [ May 19th ] [ May 20th ] [ May 21st ] [ May 23rd ] [ May 24th ] [ May 25th ]
[ May 26th ]

---
More Destinations
[ BVI 2005 ] [ Camping Trips ] [ Catalina 2002 ] [ England 2004 ] [ Europe Trip 1998 ]
[ Hometown Travel Hosts ] [ London 2009 ] [ Middle East 2008 ] [ New Orleans Thanksgiving 2007 ]
[ PerlWhirl 2000 Alaska ] [ San Diego Weekend ] [ Tokyo 2003 ] [ UK 2006 ] [ UK Trip 2000 ]
[ Walt Disney World 2001 ] [ Walt Disney World 2007 ]

---

Taking up valuable Internets space and clogging the tubes for over 10 years!!!
Site contents Copyright © 1996 - 2010, by Leonard Vinci
Please do not use the contents of these pages without written permission. That includes
linking to any of the pictures or quoting any of the text. Thank you!