Walt Disney World 2001:

May 23rd



Trip Reports
Overview
Morning Park: Disney/MGM Studios
Lunch: None.
Afternoon Park: None
Dinner: Pat and Melissa: Victoria And Alberts, rest of us: House of Blues
Evening Activity: Disney Quest and Iggy Pop Concert at House Of Blues.
Got up early and had beignets, then hopped on the bus for MGM's Early-Entry. We arrived as they opened and headed straight for Tower of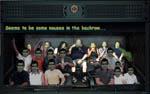 Terror. We tried one last time to get a good picture of us all looking nauseous and it was 90% successful! We still had yahoo's putting their hands up in front of us but we all made the effort to be seen. With a little doctoring it was ready for prime-time! We did more TZ shopping then took a ride on the Rock and Roller Coaster twice. Did some more shopping then went over to the Drew Carey Sounds Dangerous show. The pre-show was annoying. Supposed TV trivia on a video screen which oddly enough was very ABC-centric. The show itself was quite fun. The sound toys to play with after the show were kinda neat but need some updating. One has you in a booth wearing headphones listening to a detective drama. Unfortunately it's storyline was almost identical to the main show without the laughs.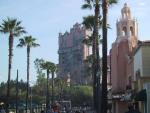 We all went our separate ways at about 9:30. Pat and Melissa did some shopping on Hollywood Blvd. before heading over to Epcot to see more of World Showcase. Greg, Terry and Denise explored MGM some more, then had lunch at the Brown Derby again. Kel and I on the other hand, took a few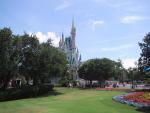 more pictures around the Studios, did some shopping (spied Melissa and Pat) then headed out to the busses to go over to the Magic Kingdom to buy Mouse Ears. Sigh. There are NO busses to the Magic Kingdom from the Studios at 10:15am. We boarded the Grand Floridian bus instead and got a tour of the Wilderness Lodge (nice), and the Polynesian before being dropped off at our Honeymoon Hotel. There was a lot of construction going on but the flashbacks from 12 years ago were nice nonetheless. Walked through the lobby up to the Monorail platform and waited maybe 2 minutes for a train. MK is the very next stop so we were in the Magic Kingdom by about 11:00. The Chapeau is located near the main entrance and we made a beeline to it. The place was pretty much empty. Kel began grabbing hats and a cast member stopped her and asked how many she needed. We said 18 and she almost fainted. Then I pulled out my very neatly written list of names and she felt much better. She tried to convince us to have her send them to our hotel, but after explaining the terrible service we'd gotten when doing that she relented and asked us to return in 30 minutes.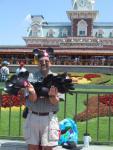 We had a half-hour to kill and the park wasn't very crowded so we made our way down Main Street, leisure-like. Veered over to Adventureland in time to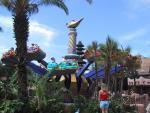 see that they had opened the new Aladdin spoke and wheel ride over night. Cool. Got pictures but didn't bother riding. I've done Dumbo and the Rocket Jets to death so what was the point? I've never been in a Disney park on the opening day of anything though so that was neat. Did a couple of other things in Adventureland then walked back down Main Street. Stopped in some shops and paused to watch some filming being done near the train station. By the time we got back to The Chapeau, our half-hour was up and the last hat was being stitched. Bill came to about $135. $7.42 for each hat including tax. They looked great! We thanked the CM who said they had a rush while we were gone which is why it took a little longer. We left the MK and took a great picture of holding 17 of the hats and wearing 1. I made a modified copy of that picture my default background for this section of the website!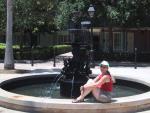 Took a bus back to the Port Orleans and arrived back at our room about the same time as Denise, around 12:30. Got some ice cream at the Float Works and sat around our room relaxing and napping for a few hours. Pat and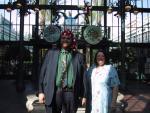 Melissa had 6:00 reservations at Victoria and Alberts for their "Honeymoon" dinner. They hadn't really had one last year when they got married. They got all dressed up and stopped by the room on their way down to the Lobby to catch a cab. We all escorted them down and took some pics. I wish we'd found a better lit area. The shadows are annoying, but we were kind of rushed. Once we got them on their way, the rest of us prepared to go to Downtown Disney for the evening.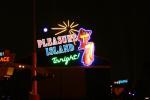 Denise, Kel and I had tickets to an Iggy Pop concert at the House of Blues beginning at 9:00. All 5 of us got aboard the water taxi from the hotel. Our skipper, Paul, was the best we'd had. He reminded us of our friend Alan from North Carolina. He did much more tour guiding than the other pilots. He dropped us off at the Market Place and we got on the bus for the West Side (it's quite a hike otherwise). We got off the bus at the Pleasure Island stop as it is on the east side of the West Side. We walked the length of the area looking in shops. Got to the House of Blues about 6:30 and were seated about 15 minutes later. Had another great meal, sans Beer and Cheese soup :(. I had Cajun Meatloaf of all things and it was quite tasty. Lingered over the meal then we waved at Terry and Greg as they headed over to DisneyQuest. The three of us went into the House of Blues Performance Hall at about 8:30. Not too big a crowd, but still no seating with a view. We bought some drinks then went upstairs to the balcony. We found two big comfy chairs off to the side. You couldn't see the stage from there except via the video screens but it was a place to sit. A garage band opened the show at nine and played for what seemed two hours but was actually only 45 minutes. There was an arctic air vent directly above us which had ME freezing! At 10:00 Iggy came out and did a great 70 minute show. The guy is in his 50s and he looks like he's 30. Maybe I'll give heroin a try? The show was loud but we were able to take little breaks from the noise by sitting in our big chairs. We stood most of the concert and had a great view. After the first encore we headed to the door and found it was MUCH louder on the main floor. Balcony was a good idea.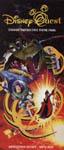 At 11:15 or so we got over to DisneyQuest hoping to meet up with the rest of the gang. Pat and Melissa were planning on being there after their dinner. The elevator entrance didn't spook Denise as much as I'd hoped (she's learning about me I guess). Again we made a beeline to the Sid's Create A Toy, as Kel and Denise had never been to Quest. They each made a toy, and Denise bought hers. While playing Greg and Terry showed up. As on Monday we all went from there downstairs to Pirates. Half my crew were newbies but we succeeded in getting our best score ever. Take THAT Skeleton-Head! We skipped the Jungle Cruise. We wanted to do another group thing, and none of us are really into standard video games so we checked our guide. Hmmmm, an Alien Encounter shoot-em-up. It's on the 5th floor and we couldn't find the elevator so we had to hoof it. Greg was our scapegoat as we huffed and puffed up the stairs. We got to the ride at about 10 to midnight and walked right on. There was a 4 person limit and we were 5, so we split up, Greg and I in one ship, Denise, Terry and Kel in the other. I drove, Greg shot. The game is basically Defender but you are physically in the ship. You pick up colonists and shoot BEMs. It was ok. I liked pirates better. Greg and I did OK. We "won" because we were able to return to base in time. The others got a better score because they rescued more colonists, but they didn't get back to base and died. Closing time came and we headed out the door. Pat and Melissa never showed.
We took a bus back to the hotel (sounding like a broken record now aren't I?) and Pat met us as we reached our room. They did go to DisneyQuest but earlier than us. They never saw Greg and Terry and were annoyed by teenagers running around. They'd waited for us outside the HoB until about 5 after 11:00. Missed us by 10 minutes! They LOVED Vic and Al's and were very glad we talked them into going. They want the chef's table next time! As we talked we all realized that this was it for the group. Greg, Melissa and Pat had a 5:00am shuttle to the airport the next morning and Terry's was at 10:00am. The rest of us didn't feel we needed to get up at 4 to see them off so we made our good byes before hitting the hay at about 1:30am.


Trip Reports
---
Text Last Modified Wed Sep 17 14:22:56 2003

Click on one of these 21 Fabulous Pics for more details and a bigger picture.
---
| | | |
| --- | --- | --- |
| Disney/MGM Studios Early-Entry | Sunset Blvd. | Twilight Zone Tower of Terror |
---
| | | |
| --- | --- | --- |
| Tower of Terror Sign | The Twilight Zone | Rock and Roller Coaster |
---
| | | |
| --- | --- | --- |
| Rock and Roller Coaster | Gerty | Webcam |
---
| | | |
| --- | --- | --- |
| Magic Kingdom Quickie | New Spoke and Wheel Ride | Dumbo Mark III |
---
| | | |
| --- | --- | --- |
| Aladdin | Yet another picture of the Castle | All 18 Mouse Ears |
---
| | | |
| --- | --- | --- |
| By the fountain | Off to pillage Vic and Al's | All Dressed Up |
---
| | | |
| --- | --- | --- |
| Off to Dinner | Neat sign | Pleasure Island |
---
---
Around The World
[ Blizzard Beach ] [ Disney's Animal Kingdom ] [ Disney/MGM Studios ] [ Epcot ] [ Fantasia Gardens and Downtown Disney ]
[ Magic Kingdom ] [ Orlando Airport ] [ Port Orleans Resort: French Quarter ] [ Pre-Trip ]
Daily Trip Reports
[ May 17th ] [ May 18th ] [ May 19th ] [ May 20th ] [ May 21st ] [ May 22nd ] [ May 24th ] [ May 25th ]
[ May 26th ]

---
More Destinations
[ BVI 2005 ] [ Camping Trips ] [ Catalina 2002 ] [ England 2004 ] [ Europe Trip 1998 ]
[ Hometown Travel Hosts ] [ London 2009 ] [ Middle East 2008 ] [ New Orleans Thanksgiving 2007 ]
[ PerlWhirl 2000 Alaska ] [ San Diego Weekend ] [ Tokyo 2003 ] [ UK 2006 ] [ UK Trip 2000 ]
[ Walt Disney World 2001 ] [ Walt Disney World 2007 ]

---

Taking up valuable Internets space and clogging the tubes for over 10 years!!!
Site contents Copyright © 1996 - 2010, by Leonard Vinci
Please do not use the contents of these pages without written permission. That includes
linking to any of the pictures or quoting any of the text. Thank you!