Walt Disney World 2001:

May 24th



Trip Reports
Overview
Morning Park: Epcot
Lunch: Tempura Kiko
Afternoon Park: Epcot
Dinner: Coral Reef
Evening Activity: Epcot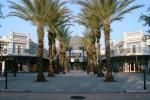 We slept in until 7:45 on Thursday, having nowhere to be urgently. We had a nice relaxed breakfast at the Float Works after doing some preliminary packing. We saw Terry off to his shuttle (from our room :) ) then the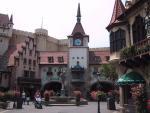 remaining 3 of us hopped on a bus for Epcot. We arrived there at 11:00 just as World Showcase was opening. We paused to watch an acrobatic troupe then boarded a "Friendship" boat which took us across the lagoon to Germany. We did some shopping and some exploring in Germany. I did some video taping of this great garden train set they had. We moseyed over to Italy and did more videotaping. There was a bit of construction going on in Italy which I thought funny as my Mom always complained that the real Italy was enshrouded in tarps when she was last there. Next to Italy is the American Adventure which is very skippable if you ask me. We did notice a sign in front that looks like the burger joint there also has a "toppings bar". We spent about 5 minutes there on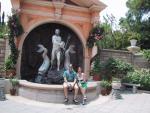 our way to Japan. We explored Japan's gardens and shops. Their museum used to have a really nice display of miniature jade and ivory netsuke carvings, but they'd replaced it with a tribute to Japanese baseball. Boring. At about 1:30 we had lunch at the Tempura Kiko Sushi bar. Yum! (Ever since then he's had a terrible craving for sushi every night! -Kel)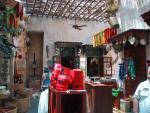 After lunch we explored Morocco looking for the baklava cart. It went AWOL on us and the line was too long at the restaurant :(. We strolled over to France and had crepes for dessert instead. I had a chocolate crepe and the girls shared one with orange marmalade smothered over it. We kicked back on a nice bench near the International Gateway to eat our crepes. After licking our fingers and watching a living statue play with the crowd, we went inside to watch the France movie. I love this film. It's a 180 degree film and you get to sit down. Beautiful film. As we got back out to the promenade it began to get stinky hot again. It was getting late (around 3:00) but we decided to go back to the hotel anyway.
We trudged through a very hot Future World and made our way to the cab stand outside the park. Asked for a receipt again and were only charged $6.50 for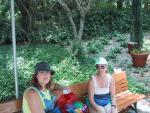 the ride back to the Port Orleans. We didn't spend too much time back in the room, only long enough for Denise to change clothes. We wanted to see the Tapestry of Nations Parade at Epcot which was showing at 6:00 so we had to get our stuff together and go right back... it was sort of a waste going back to the hotel after all.
Upon our return to Epcot we made sort of a beeline over to Norway to stake out a good place to watch the parade. We found a line of stones which looked promising and plunked down. Other people were gathering across the street. A Norwegian CM came by to tell us we were sitting in an area where people would be walking. As long as we didn't mind this we were welcome to stay, and even stand on the stones. We opted to stay as the crowd was quite large on the other side of the walkway. At 6:00 the ropes were up. At 6:02, right after the announcement that the parade was canceled due to windy conditions, the ropes came down. Dang. I knew I shouldn't have waited till the last day. The next parade, if it wasn't canceled too, would be at 8:30... We has priority seating at the Coral Reef at that time. Oh well. I'd rather eat seafood than watch a dumb old parade any day.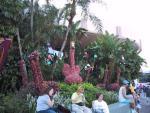 We walked back to Future World and we saw the icy Coke exhibit and decided to detour through there to see what was inside. We weren't expecting to be pelted with ice! We tasted beverages from around the world, specifically chosen by the Coca-Cola Corporation to make Coke taste better. We wasted about an hour in that Trade Show Disney calls Innoventions. I basically stood around while Kel went around breaking lap-tops and looking at termites. Yawn-fest. After that we continued to visit lameness by going on the new Imagination ride. Ok so the old one was dated and the song almost as insidious as Small World, but this new version blows completely. I'm getting tired of every new attraction having to surprise you with a burst of air or a squirt of water in order to be interesting. Maybe they should try writing a story like they used to. We walked through the Imageworks and watched some neat pricey laser etching in crystal.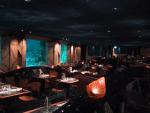 At about 30 minutes before our seating time at the Coral Reef we enter the Living Seas Pavilion. There was a stopped up line to get in and as we have the superior Monterey Bay Aquarium so close to home, we skipped it. Stalled a bit walking slowly over to the adjacent restaurant. We didn't want to be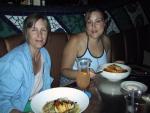 early because the whole point of eating late is being able to enjoy the empty park after closing. We got seated at about 8:35, while the restaurant was still pretty full. We got a table in the front row (there is tiered seating with everyone facing the huge 6 million gallon aquarium). We had a great view! Our server, Linda, who was great, made some nice suggestions which just happened to be what we wanted to eat anyway. Denise had wanted lobster all day so she ordered that. We all had Cream of Lobster soup and it was nummy. I had a scrumptious Mahi Mahi in Thai noodles and Kel had grilled Ahi. I then finished off both of theirs and we ordered dessert. Denise and I had "Chocolate Waves". A concoction of fudge brownie filled with Gran Marnier and smothered in hot fudge. Ouch. Kel had a cappucino. We spent some time watching the sharks and the giant sea turtle who finally made an appearance. Took some pictures of a sting ray as it wolfed down a head of lettuce. Linda pointed out a bunch of her favorites and I made a note of which ones to order for dinner next time :-).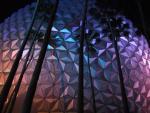 We left the Coral Reef at about 10:00 and really enjoyed walking off the very rich meal. Walking as slowly as possible, we were able to enjoy having Future World all to ourselves. I took some nice video and got a great snapshot of Spaceship Earth. Visited the Water ride for the last time and bid a fond farewell to Epcot. We cabbed it back to the hotel and actually got to bed by about 11:00!


Trip Reports
---
Text Last Modified Wed Sep 17 14:23:34 2003

Click on one of these 20 Fabulous Pics for more details and a bigger picture.
---
| | | |
| --- | --- | --- |
| The Rarely-Empty Pool. | Heading Into The Lobby | Second Stop, Shopping |
---
---
| | | |
| --- | --- | --- |
| Italy | Japanese Garden | Japanese Garden Pool |
---
| | | |
| --- | --- | --- |
| Japan | Japanese Kinetic Fountain | Morocco |
---
| | | |
| --- | --- | --- |
| Morocco | Flamingo Topiary | Spaceship Earth |
---
| | | |
| --- | --- | --- |
| Coral Reef Aquarium | Coral Reef | Not on the menu. |
---
| | |
| --- | --- |
| Coral Reef | Last Spaceship Earth Photo |
---
---
Around The World
[ Blizzard Beach ] [ Disney's Animal Kingdom ] [ Disney/MGM Studios ] [ Epcot ] [ Fantasia Gardens and Downtown Disney ]
[ Magic Kingdom ] [ Orlando Airport ] [ Port Orleans Resort: French Quarter ] [ Pre-Trip ]
Daily Trip Reports
[ May 17th ] [ May 18th ] [ May 19th ] [ May 20th ] [ May 21st ] [ May 22nd ] [ May 23rd ] [ May 25th ]
[ May 26th ]

---
More Destinations
[ BVI 2005 ] [ Camping Trips ] [ Catalina 2002 ] [ England 2004 ] [ Europe Trip 1998 ]
[ Hometown Travel Hosts ] [ London 2009 ] [ Middle East 2008 ] [ New Orleans Thanksgiving 2007 ]
[ PerlWhirl 2000 Alaska ] [ San Diego Weekend ] [ Tokyo 2003 ] [ UK 2006 ] [ UK Trip 2000 ]
[ Walt Disney World 2001 ] [ Walt Disney World 2007 ]

---

Taking up valuable Internets space and clogging the tubes for over 10 years!!!
Site contents Copyright © 1996 - 2010, by Leonard Vinci
Please do not use the contents of these pages without written permission. That includes
linking to any of the pictures or quoting any of the text. Thank you!