Walt Disney World 2001:

May 25th



Trip Reports
Overview
Morning: Downtown Disney
Lunch: Sassagoula Float Works
Afternoon: Port Orleans
Flight Home: Didn't Happen.... had to spend the night at the Orlando Airport Hyatt.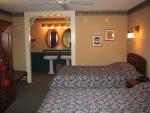 Our final day in Florida... or so we thought. We slept in a bit then packed up all our souvenirs, the camcorder, oh yeah and some clothes. Amazingly we were able to get it all into luggage we brought with us! We didn't even have to resort to packing anything in the bags under Kel's eyes. We had a breakfast of beignets and croissant sandwiches down at the Float Works, then did a final check of the room to make sure we'd not left anything. I called up the bellhop and had our bags taken down to the storage area. Our shuttle would be picking us up at 4:00. Having a half day to kill I allowed the girls to drag me off to Downtown Disney for more shopping.
We took the water taxi, but didn't get Paul for a skipper. This pilot was fun too, but not as much as Paul. We went over to the World of Disney to pick up some little wind-up toys for folks, and to look for the talking Eeyore. We couldn't find one oddly enough so had to go back to the Pooh shop. There, we finally got our Eeyore, and we've been listening to it ever since. Denise wanted to buy some cigars for her father, and the store was all the way over on the West Side, so we sent her off alone to make that hike while Kel and I played in the Lego store. We found a shady table to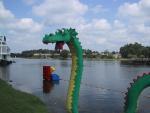 sit at while waiting for her to return, which took far less time than we thought. Feeling a bit peckish and wanting some chocolate, we popped into the Ghirardelli Ice Cream Shop for big sundaes and a root beer float. Mmmmmmmm. We were tired of shopping and it was getting hot so we got back on the boat headed back to the Port Orleans.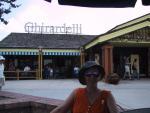 We still had a couple of hours to kill, but we were beat so had very little motivation to do anything. Our swim suits were packed so we couldn't swim, and it was too hot to hang out at the pool. We wanted to sit in the lounge and get a drink but it wasn't open yet. We settled for sitting in the lobby next to the lounge and just sort of vegged. Denise and I got hungry at one point and bought lunch, but that hardly killed anytime at all. At 3:30 we went over to the luggage storage area and claimed our bags. Our TownCar arrived early so we were on the road by 3:45. He was very friendly and we chatted with him about home construction in the area and about how expensive it is to find housing in the Bay Area. He got us to the airport by 4:15.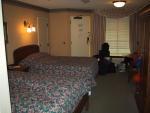 Now begins the tragic part of our tale. Maybe tragic isn't the right word.. what word would YOU use, keeping in mind we didn't arrive home in Concord until 6:00 pm Saturday? Our Frontier Air flight was scheduled to leave at 6:30pm (my tickets said 6:00). We sat at the gate from about 4:30 on. At 5:45 still no plane. The gate agents got on the PA at about 6:00 to let us know that the flight would not be arriving on time. Due to a "mechanical" which caused it to still be in Denver, the plane would not be arriving until 9:30pm! Ouch! Eight people had a connection to make by 8:00pm Denver time so we were screwed unless Frontier could get us all on another plane. We waited in a 30 minute line to talk to a gate agent. I lucked out when I was able to talk to the gate Manager, Rufus King. He worked extremely hard to get us on an outbound United flight which should get us to Denver just in time for our connection to SFO. He was great, thank goodness. He reminded me of James Woods so I didn't want to piss him off. He was writing out transfer tickets as fast as he could, despite my distracting one-liners... and his. Once complete we had to run over to the opposite end of the Orlando Airport to make the flight. Frontier's info said it was already boarding for a 7:20 departure. This run involved rides on 2 monorails.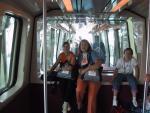 So we arrive at the United gate only to be told that they are delayed due to weather. It WAS pouring and lightening outside, but other planes were leaving just fine. Hmmm, I've never heard about any on-time problems with United <smirk>. United was not interested in working to get us a flight that would arrive in time for our Frontier connection, and suggested we'd better get back over to the Frontier gate. Sigh. We walked quickly back across the airport, riding 2 more monorails and going through security again. Rufus was not happy to see us. He was stressing big time, so I tried to make light of the situation. His next option for us was to take the now 10:30 flight to Denver and then be put up in a hotel for the night. We would then catch the first SFO flight Saturday morning. He used the term "overnight" as a verb. He said Frontier would overnight us in Denver. I knew what he meant but Denise thought we would be sleeping on hard plastic chairs in the Denver airport all night. It was probably rather evil of Rufus and I to encourage that myth. She was in despair until we relented.
We had some time so we went down to a bar and had some beers and nachos for dinner. Our waitress was very nice and our food came really fast. It was pretty good for airport food, and the beer was great. This is when it occured to us that Chris, our housesitter had expected us back that evening and was likely already gone, with the kitties looking to be left foodless until (if?) we returned. Frantic phone calls were made and Chris thankfully agreed to food the brats until we could get back.
Upon returning to our gate, our plane was just arriving. It's passengers disembarked and we sat waiting for the go ahead to board. And waited. And waited. At about 10:15 one of the gate agents left her desk and went over to another gate to use the phone. Pretty suspicious. A minute or so later an Orlando cop showed up on a bike and watched the crowd. The gate agent got on the PA to say that our flight would be delayed even longer due to another mechanical. At 10:45 a second cop showed up, and they escorted our flight crew past us away from the gate. Uh Oh. On the PA we heard the dreaded words "Your flight is canceled". Ugh.
Now they were going to overnight us in Orlando at the Hyatt, which lucky for us, is physically part of the airport. We had to wait in line to get our vouchers and that took about 30 minutes. Then, while Kel went up to check us in, Denise and I went down to baggage claim to claim our bags. Nice security eh. All of the bags were stacked out in the open for us to grab. They were also wet. How wet we were to discover once reaching our room. We met Kel in the lobby then took the glass elevator up to the 10th floor. We had to walk all the way around to the other end of the building to get to our room. It was very nice and had a wonderful view of the fabulous Orlando International Airport from it's balcony. We opened our suitcases to grab our pajamas only to find half our stuff was wet. They must have left our bags out in the rain while waiting for the plane. Jerks. Nothing important was ruined, lucky for Frontier. We went to sleep at 1:00am on rock hard beds, bitterly disappointed we weren't in our own waterbed.


Trip Reports
---
Text Last Modified Wed Sep 17 14:24:10 2003

Click on one of these 7 Fabulous Pics for more details and a bigger picture.
---
| | | |
| --- | --- | --- |
| Our Room | Luggage | World Of Disney Store |
---
| | | |
| --- | --- | --- |
| World Of Disney Store | Lego Monster | Mmmmm Ice Cream |
---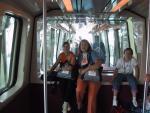 Orlando Airport Monorail
---
---
Around The World
[ Blizzard Beach ] [ Disney's Animal Kingdom ] [ Disney/MGM Studios ] [ Epcot ] [ Fantasia Gardens and Downtown Disney ]
[ Magic Kingdom ] [ Orlando Airport ] [ Port Orleans Resort: French Quarter ] [ Pre-Trip ]
Daily Trip Reports
[ May 17th ] [ May 18th ] [ May 19th ] [ May 20th ] [ May 21st ] [ May 22nd ] [ May 23rd ] [ May 24th ]
[ May 26th ]

---
More Destinations
[ BVI 2005 ] [ Camping Trips ] [ Catalina 2002 ] [ England 2004 ] [ Europe Trip 1998 ]
[ Hometown Travel Hosts ] [ London 2009 ] [ Middle East 2008 ] [ New Orleans Thanksgiving 2007 ]
[ PerlWhirl 2000 Alaska ] [ San Diego Weekend ] [ Tokyo 2003 ] [ UK 2006 ] [ UK Trip 2000 ]
[ Walt Disney World 2001 ] [ Walt Disney World 2007 ]

---

Taking up valuable Internets space and clogging the tubes for over 10 years!!!
Site contents Copyright © 1996 - 2010, by Leonard Vinci
Please do not use the contents of these pages without written permission. That includes
linking to any of the pictures or quoting any of the text. Thank you!