Walt Disney World 2001


Oooooo there's a 539 Photo Slideshow!

---
In May of 2001 a group of 7 of us (just like the Dwarves!) made our way down to Florida for just over a week. Contained in this section of my site are roughly 536 pictures (out of over a thousand snapped) taken by myself, Kelleye, Denise Rivera, Terry Robinson and Greg Tse. We all had digital cameras except Pat and Melissa Healy. The upside of this was that processing was cheap. The downside was that I had to go through over a thousand photos, picking and choosing, color-correcting, retouching and slapping on copywrite notices etc. I was much more choosy when I had to scan all the snapshots!
There are several ways to browse this section: There is an all inclusive chronological slideshow, there are the Trip Reports divided by day with links to the best pictures, then there are the Location indexes, if you are interested in just seeing the Magic Kingdom for instance. At the top of every individual picture page is a previous and next button which will throw you into the big slideshow.
A note on the photos themselves: for the most part they were originally taken as 1600x1200 resolution jpgs. They have been scaled down to 800x600 or 600x800 as appropriate, then compressed a bit. This should make the downloading go a little faster, but I erred on the side of quality. I'd appreciate if you'd ask before snagging copies for your own website (you guys on the trip don't count eh!). There are 4 Quicktime VRs which require the Quicktime plugin and for that I'm sorry because it can be a pain to download... they're really cool though :-)
One final note: Because there are so many pictures, I was unable, as I have elsewhere on the site, to put in little descriptions and titles on all the pages. I will, over the next few weeks be adding these as needed, but for now you just get a default title and no description. Most of the interesting things can be read on the trip reports anyway.
Enjoy!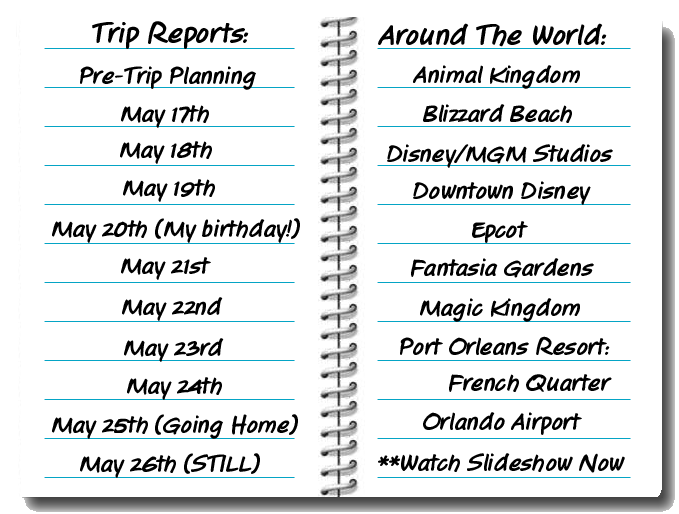 ---
Text Last Modified Sat Mar 22 06:36:44 2003


Oooooo there's a 539 Photo Slideshow!

---
---
More Destinations
[ BVI 2005 ] [ Camping Trips ] [ Catalina 2002 ] [ England 2004 ] [ Europe Trip 1998 ]
[ Hometown Travel Hosts ] [ London 2009 ] [ Middle East 2008 ] [ New Orleans Thanksgiving 2007 ]
[ PerlWhirl 2000 Alaska ] [ San Diego Weekend ] [ Tokyo 2003 ] [ UK 2006 ] [ UK Trip 2000 ]
[ Walt Disney World 2007 ]

---

Taking up valuable Internets space and clogging the tubes for over 10 years!!!
Site contents Copyright © 1996 - 2010, by Leonard Vinci
Please do not use the contents of these pages without written permission. That includes
linking to any of the pictures or quoting any of the text. Thank you!