Walt Disney World 2001:

May 17th



Trip Reports
Overview
Woke-Up: 3:00am PDT
The Flights: Frontier Air, SFO->Denver 6:40am fine. Denver->MCO delayed 1 hour, arrived 6:00.
Hotel Check-In: Great! Only took 15 minutes. No line.
Dinner: At the Sassagoula Float Works. OK meal.
Evening Activity: Miniature Golf at Fantasia Gardens
Bed-Time: 1:00am EDT
Got up at 3:00am. We had already packed so all we had to do was dress, feed the cats and wait for the shuttle which was scheduled to pick us up at 3:50. (3:30 originally, 3:40 at 1st confirmation then 3:50 when they called us at 7:00pm). It arrived early at 3:30 and we were on the road by 3:40. No traffic and we were the last pick-up so we got to SFO by 4:45. Check-in desk opened at 5:00 and we checked our bags in, then hung out at the gate till boarding at 6:05. Plane took off on time and was uneventful, landing in Denver about 10:00 Denver time. To have a smoke Kel and I had to take a train to another concourse then go up 3 flights of escalators, only to find they imposed a 1 drink minimum on the place! What extortion!. Got back to our gate to find the connecting flight to Orlando was delayed due to our plane being late in from Omaha. Once boarded (30 minutes late) they wanted to finish up some maintenance which made us even later. Got in to Orlando an hour late, at 6:00.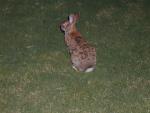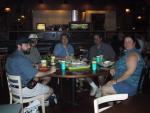 Tiffany Town Car was there to meet us and help with the luggage. That was a great deal, $80 round trip for 3 in a nice comfy car! On the way to the hotel we noticed a lot of smoke. Apparently there was a big swamp fire going on near WDW and it was smoking up the place. Got to the Port Orleans by 6:30. Check-in was a breeze. Cast member (Erin) was very helpful and had checked in everyone else earlier. Gave us the message from Pat to call them. Got up to room 6321 on the 3rd floor of building 6, which overlooks the "Bunny Garden". Nice room! I call it the bunny garden cuz there are a bunch of "wild" rabbits who live down on this expanse of lawn and who put up with children chasing them all over the place :) We met up with everyone else and decided to blow off dinner at Kimonos and just eat at the hotel's Sassagoula Float Works and Food Factory (food court) before going to Fantasia Gardens. The food was ok, I had jambalaya and kel had ribs. The jambalaya was put to shame once we ate the next night at House Of Blues. After dinner hit the Guest Services desk in the main building and bought Ultimate Park Hoppers for $314 each with the Disney Club discount (thanks Pat!). Got 7-day 6 night passes. Unlike what we'd been told, they were NOT strict about actual length of stay, it would not have been a good deal if we'd have had to have gottne 8-day passes, as our last day was abbreviated. This way they were really only about $7 more that 7-day Park-Hopper Pluss passes AND got us into Disney Quest (a $21 value). The other nice thing about them was they were linked to our room keycards. From them on we could go everywhere and buy anything using just that one card. That took about 30 minutes.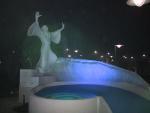 The plan then was to catch a bus to Epcot and from there a bus to the Swan Hotel which is next to the mini-golf. Well we ran into our first of very very few snafus on this trip: a bus driver at Epcot informed us that there are NO busses that go to the Swan or Fantasia Gardens from Epcot because you are able to walk there from the World Showcase entrance to the park. D'Oh! Should have taken a bus to Downtown Disney. Took a cab for 8 bux. Played a round of golf as ash from the swamp fire wafted down around us. Nice golf course but the holes are very easy once you get anywhere near them. The smoke got pretty thick and we crossed our fingers that the fire would be put out soon. We had to split up into groups of 3 and 4. I won in our group with a 10 under par score! Got a cab home for 6.75 + tip, and crawled into bed (after having a pow-wow about the next day's plans in Pat's room) at about 1:00am.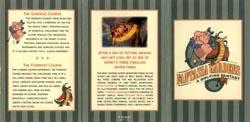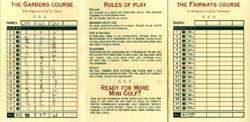 Trip Reports
---
Text Last Modified Wed Sep 17 14:18:24 2003

Click on one of these 9 Fabulous Pics for more details and a bigger picture.
---
| | | |
| --- | --- | --- |
| Magic Kingdom | Magic Kingdom | Dinner at the Sassagoula Float Works |
---
| | | |
| --- | --- | --- |
| Bunny! | Tower Of Terror in the distance | Len and Kel putting around Fantasia Gardens |
---
| | | |
| --- | --- | --- |
| Fantasia Gardens | Fantasia Gardens | Another Hole in 1! |
---
---
Around The World
[ Blizzard Beach ] [ Disney's Animal Kingdom ] [ Disney/MGM Studios ] [ Epcot ] [ Fantasia Gardens and Downtown Disney ]
[ Magic Kingdom ] [ Orlando Airport ] [ Port Orleans Resort: French Quarter ] [ Pre-Trip ]
Daily Trip Reports
[ May 18th ] [ May 19th ] [ May 20th ] [ May 21st ] [ May 22nd ] [ May 23rd ] [ May 24th ] [ May 25th ]
[ May 26th ]

---
More Destinations
[ BVI 2005 ] [ Camping Trips ] [ Catalina 2002 ] [ England 2004 ] [ Europe Trip 1998 ]
[ Hometown Travel Hosts ] [ London 2009 ] [ Middle East 2008 ] [ New Orleans Thanksgiving 2007 ]
[ PerlWhirl 2000 Alaska ] [ San Diego Weekend ] [ Tokyo 2003 ] [ UK 2006 ] [ UK Trip 2000 ]
[ Walt Disney World 2001 ] [ Walt Disney World 2007 ]

---

Taking up valuable Internets space and clogging the tubes for over 10 years!!!
Site contents Copyright © 1996 - 2010, by Leonard Vinci
Please do not use the contents of these pages without written permission. That includes
linking to any of the pictures or quoting any of the text. Thank you!