Walt Disney World 2001:

May 19th



Trip Reports
Overview
Morning Park: Magic Kingdom
Lunch: None
Afternoon Park: None
Dinner: Teppanyaki Dining Room, Epcot
Evening Activity: Spectro Magic Parade and Fireworks at the Magic Kingdom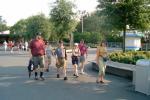 We got up at 5:45. By we I mean I did. the girls got up about 15 minutes later after I'd dressed, made coffee, and taped my day's intro. We gathered our forces by 6:45 and took the bus over to the Magic Kingdom for Early-Entry. MK opened for us at 7:30. We strolled down Main street and part of me misses the old Space Mountain Sprint... a very small part of me that is insane. We paused at Casey's Corner for coffee and rolls. This was after searding high and low for the Bakery like in Anaheim. Florida's was closed for rehab so Casey's was the ONLY place on Main Street to get coffee. We got some then sat across the street at some tables to enjoy them. In 5 minutes we were asked by 12 different people where we got the coffee. Disney should add a not to their guides, sheesh. After the pause I cranked back up the camcorder and videotaped our walk towards the castle.


We were heading for Fantasyland. Our plan, and it was a great one, was to enjoy all the dark-rides before the crowds. A long line for a payoff like Splash Mountain is one thing, but for Snow White? Nyet. We had tickets for the E-Ride night the following Tuesdays anyway so we could hit Tomorrowland then if the timing didn't work out today. Snow White was first as I got turned around. In Disneyland, Peter Pan, my favorite dark ride, is on the right as you enter Fantasyland, and Snow White on the left. here it's the exact opposite. This version of SW features more Snow White than it's Anaheim counterpart. I videotaped it, using the night-vison mode for the first time. Looked cool but the autofocus hard a hard time of it. Not as hard as when we rode Peter Pan (the ride, not the fictional character eh). It kept focusing on the sail of our ride vehicle. Oh well, I wasn't selling the tape to anybody. Anaheim's Pan is hella better. We paused at Pottyland while Melissa and Pat rode Small World. Really, I tried to talk them out of it, but I guess it's like picking a scab, they just couldn't help gawking.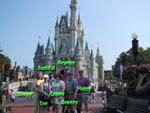 After they escaped, we headed over to the Winnie The Pooh Ride. Greg had to document every square inch of it. I liked it and didn't have to use night-vision as much as on the other dark-rides. I've read about Tokyo's version and would love to see it. I'm glad Disneyland still has the superior Mr. Toad (WDW's sucked). None of these dark rides had any lines... well Pooh maybe had a 2 minute line. We made our way over to Tomorrowland then at about 8:30. We rode Space Mountain which is vastly improved IMNSHO since they did away with the "sit in each other's laps" ride vehicles. Could use some Dick Dale tunes though... We basically walked right onto that ride as well. Took an extended break to grab a small bite to eat and Pat got us Buzz Lightyear FastPasses. While waiting we popped out to the hub to get a picture of the whole group in front of the castle. A friendly Brit obliged. it came out a little dark unfortunately, but we've got Photoshop so no worries.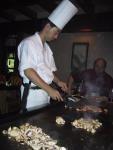 FastPass time came and we walked right on. What a blast! Makes me want to ride the new MIB ride at Universal. We then got in a short line for Alien Encounters, my favorite attraction from 5 years ago. They've dumbed it down unfortunately. No more completely fried Skippy, no more exploding alien in the dark. Sigh. Lowest common denominator sucks sometimes. They even gutted the cool giftshop adjacent to it. My other favorite, Timekeeper, was closed. I'd read about that so was prepared for the disappointment. Took a ride on the PeopleMovers (oops sorry the TTA). I videotaped the ride and got some fun night-vision shots.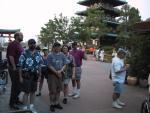 Shortly before noon we decided to go back to the hotel for a break. I took a 2 hour nap while Kel downloaded pics off the camera onto the laptop. At 5:30 we all met up for a bus ride to Epcot. Walked right through FutureWorld as we planned on seeing it later. We had 7:00pm PS at the Teppanyaki Dining Room in Japan. Waited about 10 minutes for a table. As we were 7, we got one all to ourselves. Great dinner. I had the "Fujiyama" as did several others in our group. It was the steak dinner. We had lots of shrimp and salad and vegetables and stuff. Great fun watching the chef and none of us got whacked by a shrimp tail! I like Benihana better but they don't have a restaurant in Epcot so.... Greg bought us all plum wine to celebrate the trip (what more reason do you need?) Nummy.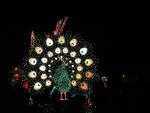 Dinner took less time than we thought, so we changed from our plan to hit MK by 10:00 for the fireworks then watch Spectro Magic at 11:00 to instead see the 9:00 parade, then the fireworks then head home. Took the monorail to the TTC and transfered to the MK train. Arrived at MK about 8:45, just in time to get a spot to see the parade. The crowd was hella obnoxious, reminding me of the last time I saw Fantasmic at DL. Rude parents and Girl Scout leaders shoving their kids through the crowd to see what ended up being a fairly lame Electrical Parade knock-off. Oh well. Found a quiet spot to smoke and sit for a half hour then found a new place to watch the fireworks. Were were still in Town Square in front of the Train station and although I was dubious about our position, it ended up being a truly great show. Had a great view of the castle and not too many obnoxious assholes around us. I especially like the lighting effects they used on the castle... maybe it IS as pretty as Disneyland's. We skedaddled out of the park with everyone else who wasn't staying for the second parade, and went all the way down to the end where the Port Orleans bus did it's pick-ups. Looks like the PO busses always get the farthest stop :) Got back to the hotel about 11:00 and hit the hay shortly thereafter.


Trip Reports
---
Text Last Modified Wed Sep 17 14:20:09 2003

Click on one of these 13 Fabulous Pics for more details and a bigger picture.
---
| | | |
| --- | --- | --- |
| Early-Entry on Main Street | King Arthur's Carousel | Heading to Tomorrowland |
---
| | | |
| --- | --- | --- |
| Tomorrowland | Cinderella's Castle | The Group |
---
| | | |
| --- | --- | --- |
| In Japan | Makin' Food | Right before the Parade |
---
| | | |
| --- | --- | --- |
| Spectro-Magic Parade | Spectro-Magic Parade | Spectro-Magic Parade |
---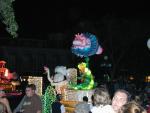 Spectro-Magic Parade
---
---
Around The World
[ Blizzard Beach ] [ Disney's Animal Kingdom ] [ Disney/MGM Studios ] [ Epcot ] [ Fantasia Gardens and Downtown Disney ]
[ Magic Kingdom ] [ Orlando Airport ] [ Port Orleans Resort: French Quarter ] [ Pre-Trip ]
Daily Trip Reports
[ May 17th ] [ May 18th ] [ May 20th ] [ May 21st ] [ May 22nd ] [ May 23rd ] [ May 24th ] [ May 25th ]
[ May 26th ]

---
More Destinations
[ BVI 2005 ] [ Camping Trips ] [ Catalina 2002 ] [ England 2004 ] [ Europe Trip 1998 ]
[ Hometown Travel Hosts ] [ London 2009 ] [ Middle East 2008 ] [ New Orleans Thanksgiving 2007 ]
[ PerlWhirl 2000 Alaska ] [ San Diego Weekend ] [ Tokyo 2003 ] [ UK 2006 ] [ UK Trip 2000 ]
[ Walt Disney World 2001 ] [ Walt Disney World 2007 ]

---

Taking up valuable Internets space and clogging the tubes for over 10 years!!!
Site contents Copyright © 1996 - 2010, by Leonard Vinci
Please do not use the contents of these pages without written permission. That includes
linking to any of the pictures or quoting any of the text. Thank you!