Walt Disney World 2001:

May 20th



Trip Reports
Overview
Morning Park: Disney/MGM Studios
Lunch: Brown Derby
Afternoon Park: None
Dinner: Rose and Crown, Epcot
Evening Activity: Illuminations at Epcot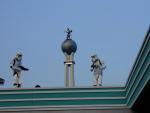 Got up at 5:45 (again) and went went down to the Sassagoula Float Works to pick up beignets for the gang. 3 for $1.89 + tax, such a deal! They are big and delicious.Enjoyed a room brewed cup of coffee, then headed for the bus stop at about 7:00. Disney/MGM Studios was our destination today, for early-entry. It was Star Wars Weekends at MGM so there were Storm Troopers patrolling the entrance. They had some pretty funny (scripted) comments about the crowd, then finally grudgingly let us in at about 8:00. No rebels were harmed. Head straight to the Twilight Zone Tower of Terror... with a brief stop on Sunset Blvd to visit the water-ride. After being excited about the Tower for a week, Denise suddenly began to get cold feet. I guess it is pretty intimidating :) The fires were still going in Florida and the smoke was the worst of the entire trip this day. The smoke level dipped all the way down to about the 10th floor of the Hollywood Tower Hotel! There was no line which was great except we'd wanted to snap some pics of the lobby. We got the chance later. The CM who "checked us in" reminded me of Jon Lovitz. Had a short wait once we got to the basement then boarded the back row of our service elevator. I hate drop rides and it took an extreme act of courage to ride this for the first time 5 years ago. I loved it back then, and still do, but this first time after so long got the butterflies going good. It was just as fun as I remembered, even though they've changed the up/down cycle a bit. The view at the top stunk though... literally. The smoke was very thick, and it wafted into the Tower, making for a very interesting ride. For the rest of the trip, I was reminded of those drops every time I smelled smoke. We walked over to the Rock and Roller Coaster and again there was little line. The pre-show is fun and they really could easily change the whole thing over to some better band than Aerosmith if they wanted to. While waiting, the group got tired of me not noticing they were all wearing Dwarf pins. They kept asking if I was happy. Sure I was happy, I'm at WDW and it's my birthday... hmmm. My hat was then pulled off my head to show me I had a "Happy" the dwarf pin on. Kel had stealth stuck it on earlier. There were 7 of us so it as a natural. Kel was Doc, Pat Grumpy. Other appropriate pairings were Greg as Sneezy, Denise as Sleepy and Terry as Bashful. Melissa got Dopey and tried to find a good association for herself with it. I thought it as all very cool and fun of them to do. The coaster itself is fantastic. I loved the high speed acceleration into the first loop. The music was ok, but would have preferred Dick Dale :) We rode it a second time then dragged Denise back to TZ for another drop in. Spent some time in the TZ gift shop buying a set of hotel towels for Adri and Matt. They were a bit bulky so we took advantage of the Package Shipping deal, where for $10 they'll ship your purchases to your home. As of this writing, June 4th, they have yet to arrive. {They arrived on the 5th} Next time we'll cram them into our suitcase somehow. We were not very pleased with the Package Express to your hotel either. [already mentioned???] {Yes. More than twice, probably not - Ke} Denise bought me a Bellhop Goofy for my birthday which was too cool. (Did I mention it was my birthday?) {Yes. More than ten times, probably not - Ke}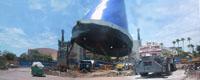 We took a little sit-down break then waded through the smoke over to the Great Movie Ride. There were construction walls set up in front of it, as they were building this huge Sorcerer's hat. We had to go in through an alternate entrance. It's still a pretty fun ride, even though the cheese factor is kinda high, and they try to group Disney B-Movies with classics. Don't they know that a clip of Sister Act right after a clip from Casablanca ain't gonna get ANYBODY to run out and rent a Whoopie Goldberg film. We had Priority Seating scheduled at the Brown Derby for 11:10, and it was only 10:30, so we kicked back for a bit then headed over did some shopping at the Villain Shop. Bought cool stuff and had it Package Expressed to our hotels' gift shop (for our convenience - HAH!) to be available to us for pickup 1 to 2 days later.
We arrived at the Brown Derby at 11:00 and got seated at 11:10. Our server, Sandi, was great. I had a wonderful big ravioli appetizer followed by a huge Cobb Salad with shrimp. Kel and Denise shared a Cobb. About halfway through the meal Sandi asked if I was Happy... this tipped me off that I should leave room for dessert. I couldn't finish the Cobb (that RARELY happens folks). Then as expected, the staff came out singing happy birthday with a cake. It was nummy and I dealt with the embarrassment pretty well. Must have been the Skywalker I had to drink. It was a special drink for the Star Wars festivities (duh). It had vodka in it. Great meal.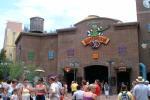 After lunch we strolled over to Star Tours and got Fast Passes. There was a noisy light saber show going on outside. From there we walked over to see the Muppet 3D show. Great fun, little or no wait. Back we went for our Star Tours FastPass return, which got us right on the ride. In a way it was too bad because Denise had never been through the line before. It's so well detailed. I always freak out because it is so similar to Disneyland's, yet different. The ride itself is identical, and it looked like a new print of the film. Ahhh the classics. By the time we finished Star Tours it was starting to get hot and crowded. Time to head back to the hotel for our afternoon nap/picture dump/cool-off. Made a few brief stops on the way out of the park, then hiked out to the furthest bus stop (again, somebody in Transportation hates the Port Orleans).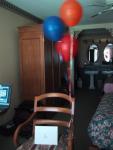 While Kel played with our pictures, I went back down to the hotel giftshop to buy more postcards for the folks back home. When I returned to the room not 15 minutes later I found it full of people and balloons! The whole group was there and they had a card for me featuring a picture and autographs from Snow White and the Seven Dwarves... oh and my friends signed it as well, under their namesakes:) They, (particularly Melissa), had set it up with the front desk to arrange the balloons etc. Very fun. Kicked everyone out after thanking them, then started cranking out postcards. While doing this Kel and I discussed some changes we wanted to make to the master schedule. Originally we had not included the afternoon breaks, so something was being sacrificed... Epcot. We decided to broach the subject with the rest of the group, proposing to shuffle some things around in order to give us a full day there instead of seeing it piecemeal. Later when Melissa and Pat dropped by the room we found that they had had the same idea! We moved Blizzard Beach from Tuesday to Monday, and pencilled in Tuesday as Epcot day. We would still spend that evening at MK for E-Ride night and still spend Monday evening at Downtown Disney. Everyone agreed this would work out just fine.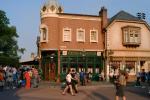 Off to Epcot for my birthday dinner at the Rose and Crown. We'd made priority seating arrangements months ago for this. Pat called as soon as possible and requested a patio table with a view of Illuminations. This would mimic the last time Kel and I were here, on my 31st birthday. Pat then called and confirmed the arrangements 3 more times before we flew into Orlando. (Ya see where this is heading?) Once in Epcot we had some time to kill so we spent it in Canada. Watched their 360 movie, which is still fun but getting way dated. Everyone was reminded of Len-O-Vision during the bobsled portion. We walked over to the UK and relaxed a bit in the Secret Garden. A Beatle Band was playing. At 10 to 7 We went over to claim or table at the Pub. First problem came up: They began to lead us to a table in the back, with absolutely NO view of the Lagoon (and Illuminations). Pat protested and they said that for Illuminations viewing one must make PS arrangements for 7:30 not 7:00! This was a direct contradiction to what 4 people had told us on the phone for months. Pat was justifiably pissed. They told us they would try and get us patio seats but it may take a half hour or so. They gave us a pager and we plunked down in a nearby area to wait. I had a Guinness. The outdoor beer vendors are not allowed to accept tips FYI. We waited and waited. I did some video taping of the area. At 7:45, still no page, so Pat and I went up to the R&C reservation desk again. Lo and behold, they said they'd been paging us! They tested the pager and it worked fine this time. heck we were only 50 feet away. Curious. We quickly gathered the group and were cheerfully directed... to the very same table they tried to give us before. In the back near the entrance. By this time, smoke was beginning to come from Pat's ears. Not only had he been calling for 2 months, but the whole reason he'd been calling was because they pulled this on him 2 years ago. I was a bit more mellow about it, as I'm not really into confrontations, and I figgered if we ate fast we could quickly find an alternate viewing area right after dinner. We all were feeling a little uncomfortable because Pat was fuming and getting madder and madder, until finally he got up and asked to speak to the manager. We couldn't hear them (a good thing), and while Meaghan the manager (sp?) was unable due to availability, to move us to a better table, the venting cooled Pat off. She listened to al of his gripes and sympathized but there was little she could do. Pat felt better and we all relaxed.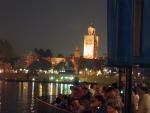 For dinner I had Bangers and Mash (much better then what you get in the real UK IMNSHO) and Kel had the Pie Sampler. I also had a couple more Guinnesses (it was my BIRTHDAY!). Our server was great. About halfway through the meal, Meaghan returned to our table and offered us spots in the VIP viewing area for Illuminations for our trouble! Ka-Ching! Not as good as watching it from a nice table but a very close second. Heck it would be away from the rabble so I was pleased as punch. After dinner Melissa and I went into the pub to get refills on everyone's drinks (only one per ID.. sheesh), then Meaghan escorted us toward the VIP area. At this point, I realized something was missing. The camcorder bag!! I'd left it in that nearby area we'd been waiting in before dinner and then left it when Pat and I went to check on the table. I'd expected to be right back, and then the table snafu hit and I forgot all about it. Nobody in the group noticed! I ran back to that area, which incidently was a pretty good viewing area, and the people there told me they'd found it and turned it in to the R&C. I ran back to the front desk and sure enough they still had it! Thank goodness! Not only is the camcorder not mine to lose, I'd feared it would be turned in to lost and found where I wouldn't be able to get to it till after Illuminations. Karma worked out for me yet again. (That's the reason I tip big :). As it turned out, I decided not to tape Illuminations afterall in favor of just watching and enjoying it. If it was spectacular, I'd return later in the week to tape it.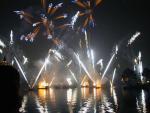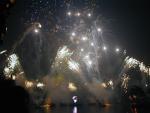 We were shown to a nice area devoid of humanity and staked out positions against a low wall. Perfect viewing. The show started 5 minutes later and was totally great, but not so great that I needed a tape of it. The fireworks and lighting effects were really cool, but the music was, to my ear, rather tame and uninspired, not like Fantasmic's score at all. It finished up by 9:20, and we all made our way back over to the Secret Garden to let the crowd thin out before we left the park. Pat went back to the R&C to thank the manager again, snagging her card so he could write a formal letter to Disney after we got home, both to compliment her, and to berate Disney for it's problems with PS communications. We hung out in the Secret Garden for about 40 minutes, then made our way out of the parked in a very non-rushed manner. We stopped at a gift shop on the way out, and I bought some stuff for my nephew. Once in the parking lot, we could see the Port Orleans line at the far, far bus stop. None of us could face that annoying walk then wait, so we took a cab. The cabby was a dishonest crook. He didn't flip on the meter and when confronted on this, he said that it's always $9.50 or $10 to the PO form Epcot. He charged us $10 which we pretty much threw at him with no "tip", and vowed to ask for a receipt from now on. We took several more cabs from Epcot after that, always asking for a receipt and it NEVER came to more than $6.75. Them we always tipped.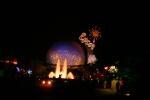 Got back to the hotel around 10:30 and some of us went swimming. The pool was much cooler and much less crowded than before. Quite a relaxing swim. Didn't get to bed until after midnight. All in all one of the best birthdays ever!






Trip Reports
---
Text Last Modified Wed Sep 17 14:20:57 2003

Click on one of these 26 Fabulous Pics for more details and a bigger picture.
---
| | | |
| --- | --- | --- |
| Storm Troopers at the Gate! | Storm Trooper | New Construction |
---
| | | |
| --- | --- | --- |
| Building a Hat. | Muppet Vision | Muppet Vision |
---
| | | |
| --- | --- | --- |
| Water-Ride | Street Signs at the Port Orleans | Street Signs at the Port Orleans |
---
| | | |
| --- | --- | --- |
| Birthday Balloons | The Rose & Crown Pub | At the Rose & Crown |
---
| | | |
| --- | --- | --- |
| Morocco At Night | Reflections of Earth | Reflections of Earth |
---
| | | |
| --- | --- | --- |
| Reflections of Earth | Reflections of Earth | Reflections of Earth |
---
| | | |
| --- | --- | --- |
| Reflections of Earth | Reflections of Earth | Reflections of Earth |
---
| | | |
| --- | --- | --- |
| Reflections of Earth | Reflections of Earth | Reflections of Earth Final Shot |
---
| | |
| --- | --- |
| After Illuminations | Spaceship Earth by Night |
---
---
Around The World
[ Blizzard Beach ] [ Disney's Animal Kingdom ] [ Disney/MGM Studios ] [ Epcot ] [ Fantasia Gardens and Downtown Disney ]
[ Magic Kingdom ] [ Orlando Airport ] [ Port Orleans Resort: French Quarter ] [ Pre-Trip ]
Daily Trip Reports
[ May 17th ] [ May 18th ] [ May 19th ] [ May 21st ] [ May 22nd ] [ May 23rd ] [ May 24th ] [ May 25th ]
[ May 26th ]

---
More Destinations
[ BVI 2005 ] [ Camping Trips ] [ Catalina 2002 ] [ England 2004 ] [ Europe Trip 1998 ]
[ Hometown Travel Hosts ] [ London 2009 ] [ Middle East 2008 ] [ New Orleans Thanksgiving 2007 ]
[ PerlWhirl 2000 Alaska ] [ San Diego Weekend ] [ Tokyo 2003 ] [ UK 2006 ] [ UK Trip 2000 ]
[ Walt Disney World 2001 ] [ Walt Disney World 2007 ]

---

Taking up valuable Internets space and clogging the tubes for over 10 years!!!
Site contents Copyright © 1996 - 2010, by Leonard Vinci
Please do not use the contents of these pages without written permission. That includes
linking to any of the pictures or quoting any of the text. Thank you!